1. Emergency stain-removers
Make sure that you have some tide wipes, club soda or bleach pen, tissues and handkerchiefs with you. A pack of stain removing towelettes will help you to remove stains from you clothing and let them look crisp for the memorable photographs.
2. Hair pins
It is very important to carry hair clips and bobby pins of various sizes. Ensure that you have them in good quantity.
3. Safety pins
A make-up kit is incomplete without sufficient numbers of safety pins as well as straight pins. These pins are very useful in case of any kind of dress emergencies.
4. Sewing kit
When you make a sewing kit, make sure to load your safety kit with some clear threads. It is advisable to have one in white and another in black. In addition to this, include some buttons, hooks, and scissors. So be prepared, you never know when a seam will be broken. Also include a duct tape of white color in the kit. The duct tape could be used to hold anything such as hems or decorations that are pulled out.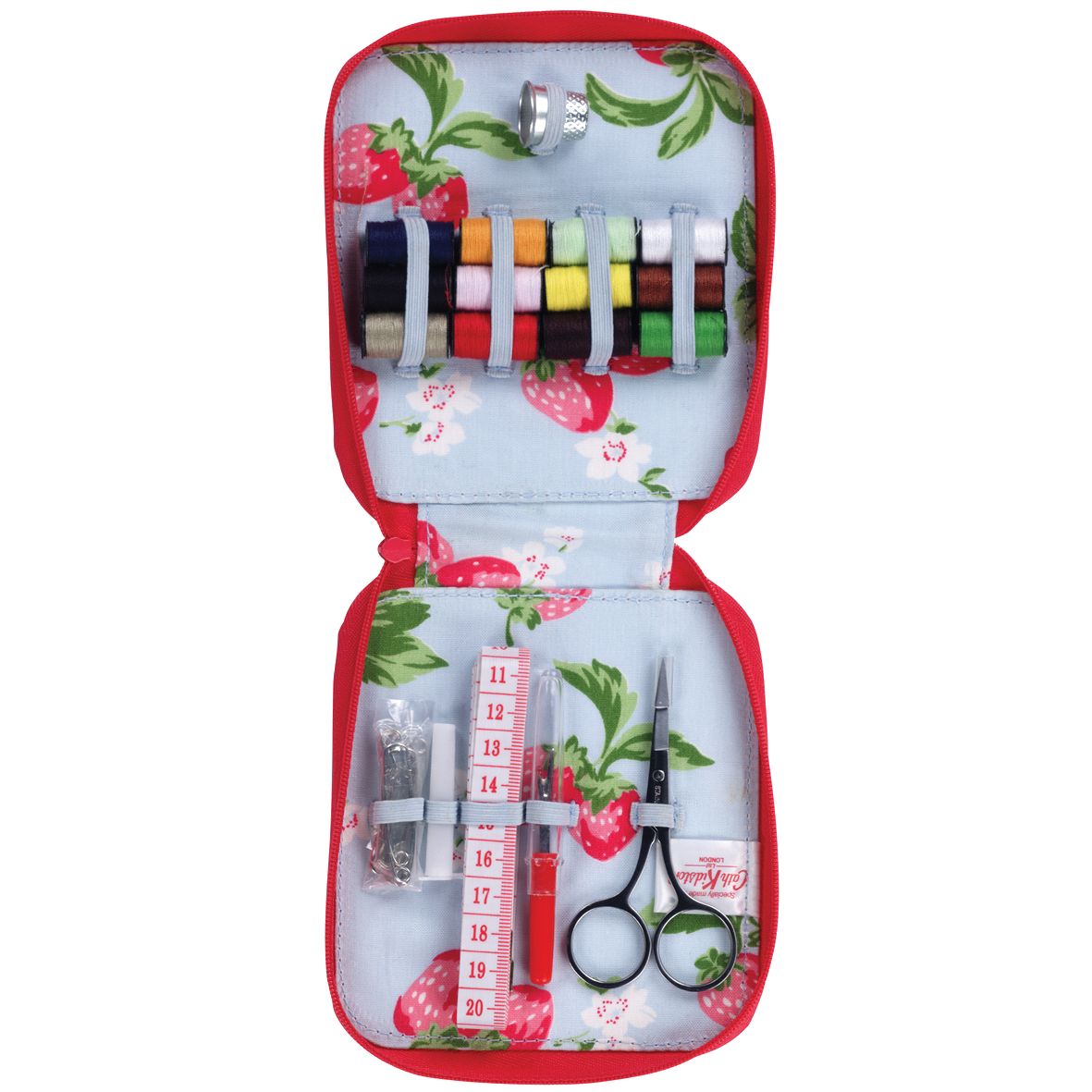 5. Spare makeup
Spare makeup is one of the most important elements of your safety kit. It should include loose powder, makeup sponge; waterproof eye makeup, lip gloss; nail polish, etc. Sweating, eating, crying and kissing may rub off your beautiful makeup. Also, ensure carrying a good makeup remover as well as a nail polish remover with you. The spare make up kit can be used to re-apply your makeup. Don't forget to carry cotton swabs, tweezers, combs and brushes, moisturizer, hairspray, toothbrush, mouthwash, toothpaste, floss, and instant manicure kit.
6. Super glue
It is advised that you carry superglue with you so that you can fix your broken shoe heel immediately. So now you stop worrying about your high heels.
7. A button-down shirt
You need to remember that once you are done with your beautiful bridal makeup and hair, then you wouldn't be allowed to pull your shirt or top over your head. In this case a buttoned shirt would come to your rescue.
8. Bottled water
Keep drinking water handy. You never know when would you feel thirsty. Hunger pangs can attack you anytime, so it is best to carry your favorite snacks with you.
9. Colorful umbrellas
Umbrellas are useful both in rains and scorching heat. Carry a colorful umbrella with you that will save you from both.
10. White or silver ballet flats
Walking in the high heels, let alone running, might hurt as the sun sets. However, if the party doesn't end and you want to keep dancing, the silver or white ballet flats will come to your rescue. Wear the one that goes well with your attire and keep dancing.
11. Phone diary
You never know when you need to contact someone, whose not there in your phone list. So it is suggested to carry a small telephone diary with you. It will helpful if you mobile phone battery dies. We would also suggest you to carry your charger as well as spare charged battery with you. In this diary write down the contact numbers of all the service providers that are working for the day. You may also include the emergency numbers for the disc jockey, florist, bakery, photographer, caterer, etc. Thus, if anything goes wrong, you can contact them easily.
12. Medicines, mints and hand sanitizer
You safety kit should have pain reliever and migraine medicine. You can also include antacids, redness-reducing eye drops and allergy medications in your safety kit. We would suggest you to carry a first aid kit with you. Hand sanitizer is useful in maintaining cleanliness and staying away from water, which may get spilled on your dress. In your first aid kit you must have band-aids that would come to your rescue if you get small cuts or blisters from your new shoes. Make sure that you keep cold packs handy, as they can be used for overheated brides or for a headache or sore feet. The gum or mints will help you to keep breath fresh all through the day.
13. Deodorant
You would definitely not want to end up smelling bad on your precious day. As you would keep moving around in your huge dress, you would end up perspiring a little more than what you usually do. At this time, you favorite deodorant will help you to smell good and feel good as well.
14. Wet wipes
You should carry a pack of wet wipes in your emergency kit. They would be useful sticky hands when you cannot visit the ladies room. You should also carry tissue papers with you to wipe sweat or tears as well as dab extra makeup.
15. Cash
Now comes the last but surely not the least, it is very important that you carry enough cash with you in your emergency kit. Remember you cannot always rely upon ATM machines, as they may stop working in crucial times. So it is better to be safe than sorry.
Special thanks to weddingclan.com for this article.