Register here if… you value one-stop-shopping convenience above all else and are on the hunt for basic housewares, linens, and appliances at a range of price points.
Perks: 10 percent completion discount on items you registered for but didn't receive. You're also eligible for free gifts (e.g., a cheese-serving set from Delonghi) when guests purchase qualifying items.
Check out: Elizabeth Arden the Spa Collection bath towels, $16.99 each; B. Smith 7-piece multi server, $39.99; Mikasa Love Story 5-piece dinnerware set, $49.99
Register here if… the goods that catch your eye tend to involve the names Vera, Ralph, Kate, and Calvin. Cool feature: Our own popular Set the Table tool lets you mix and match china patterns on a virtual table with products from Bloomie's, so if you see something you love, voilà!—you know where to find it.
Perks: 10 percent completion discount for up to six months after your wedding. Plus: free monogramming, invites to exclusive events, and honeymoon discounts from Leading Hotels of the World.
Check out: Lauren by Ralph Lauren Lawton sheets and accessories, $24–$320; Vera Wang for Wedgwood Duchesse stemware, $40–$75; Kate Spade New York Gardner Street rose bowl, $100
Register here if… you're drawn to modern housewares and furniture, and enjoy entertaining. This is also where you can register for glasses that cost $2 a pop (an option young relatives and poor friends will appreciate).
Cool feature: Get started by attending one of the store's Wedding Party Events, during which you can start scoping out merchandise with the help of a registry expert and watch product demos.
Perks: 10 percent completion discount and bonus gifts (e.g., All-Clad measuring cups) when you register for select products
Check out: Petrie Apartment sofa (pictured), $1,499; Acacia Modern low bowl, $49.95; Verena 4-piece place setting, $49.95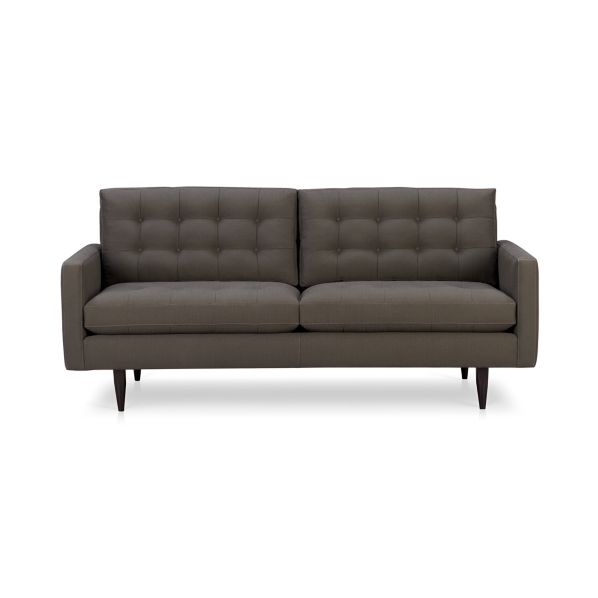 Register here if… you're already a fan of the store's shtick—quality and style at a great value—and your shopping experiences have been positive. If you love the Simply Vera Vera Wang clothing line (as many of our staffers do), you'll love the Simply Vera bath items, too.
Perks: 15 percent completion discount for up to three months after your wedding. Guests who present a Kohl's "registry announcement" card get a 15 percent discount when they make an in-store registry purchase of $50 or more.
Check out: Simply Vera Vera Wang Platinum Bedding, $44.99–$289.99; Bobby Flay 5-piece Griller's Kit, $79.99; Food Network 4-in-1 Grill & Griddle, $139.99
Register here if… Macy's is already your go-to department store, so you can rack up those rewards dollars! Locations on both coasts make in-store shopping easy for guests.
Perks: Macy's credit card holders can enroll in the Registry Star Rewards program to earn 10 percent on Macy's purchases made through your wedding day, and receive 5 percent rewards dollars on purchases made from your registry. After your wedding, enjoy a 10 percent completion discount on most items.
Check out: Charter Club damask stripe 500-thread-count sheet sets, $60–$185; Hotel Collection Wide Stripe Bronze bedding, $70–$340; Lenox Portola 65-piece 18/10 flatware set, $300
Register here if… the store's catalogs depict exactly the kind of "relaxed summer home" vibe you aspire to create in your everyday digs.
Cool feature: On Tuesday evenings stores host registry workshops, which are good to attend because some of the home collection is available only in-store, not online.
Perks: 10 percent completion discount for up to six months after your wedding. If you register for Pottery Barn gift cards, you can redeem them not only at Pottery Barn but also at sister stores Williams-Sonoma and West Elm.
Check out: Tava round charger, $18; Emma dinnerware in white, $40$159; Schott Zwiesel stemware, set of 6, $64
Register here if… you already make regular trips to this hip retail giant, are a huge fan of its big-name "designer goods for less" credo, and/or want to round out your registry with some household and electronic staples.
Cool feature: If you register in-store, you receive a welcome kit that includes a Target Club Wedd catalog, a coupon book, and various offers from different brands.
Perks: 10 percent completion discount
Check out: Home Thira teal 16-piece dinnerware set, $69.99; Simply Shabby Chic floral scroll comforter, $89.99; Giada De Laurentiis for Target 10-piece Professional Series Tri-Ply Clad cookware set, $199.99
Register here if… you're passionate about cooking and entertaining.
Cool feature: You can attend Store Is Yours events, during which select stores open their doors exclusively to registering couples.
Perks: 10 percent completion discount for up to six months after your wedding, during which time you'll also receive 10 percent off non-registry items. You can also qualify for bonus gifts (e.g., a Le Creuset heart-shaped casserole) when you add certain brands to your registry.
Check out: Le Creuset Signature 5½-quart Dutch oven, $245; PolyScience The Smoking Gun food smoker, $99.95; Zwilling J.A. Henckels Pure 6-piece knife block set, $249.95
Register here if… you think decorative items trump registry basics, and tend to gravitate toward European-inspired housewares, furniture, garden décor, and gift items.
Perks: 10 percent completion discount
Check out: Bistro sconce, $139; octagonal mirror, $195; vintage French cane round armchair, $349–$419

Specialty Stores & Boutiques
Register here if… you're most excited about registering for your china, crystal, and flatware, and require a lot of personal attention (read: hand-holding).
Cool feature: Exceptional service. Registry consultants at the posh New York City store have been known to spend as much as two hours walking registrants through the options, and even setting up tablescapes so they can see how all the pieces will work together.
Cool feature: You can review all orders placed from your registry before they're shipped. This lets you make last-minute swaps for any items you no longer want (or didn't receive enough of to put to use).
Perks: 15 percent completion discount
Check out: Waterford Alana Prestige toasting flute pair, $295; Cenedese Murano amethyst round twisted vase, $514; Robert Haviland Farahnaz 5-piece place setting, $870
Register here if…you love art and design. Think: one-of-a-kind design objects, furniture, lighting, art repros, and more.
Cool feature: Every purchase supports the museum and its programs; and yes, you can register for a MoMA membership.
Perks: 10 percent completion discount
Check out: Espresso set, $48; Nest 8-bowl set, $50; Miix spoon set (pictured, page 1), $24
Register here if… you (and most of your guests) appreciate timeless, beautiful, and expensive things that are destined to become family heirlooms. In addition to big-ticket items, there are plenty of vases and bowls that clock in at less than $100 good news for Cousin Polly who just got laid off).
Perks: Free shipping on registry orders of $300 or more
Check out: Pearl crystal Champagne flute, $95; Audubon sterling silver place setting, $600; Black Shoulder hand-painted porcelain tureen, $2,210
Register here if… you live in the Bay Area or simply like the idea of owning well-crafted home décor, furniture, and tabletop designs from around the world, no passport required.
Perks: One-time 10 percent completion discount; option to have your gifts shippedat the time of purchase or after you've had a chance to review them and adjust quantities and/or make swaps
Check out: Japanese hors d'oeuvres plates, set of 4, $60; French Country carving set, $95; Murano Millefiori fluted bowl, $298
Register here if… you're a "Happy Chic" junkie and want the opportunity to stock up on the ceramics, rugs, and pillows you've been drooling over lo, these many years.
 Perks: 10 percent completion discount
Check out: Mr. & Mrs. Muse bottle stoppers, $48; Mod Love needlepoint pillow (above), $175; Bond wall mirror, $695
Register here if… you're very fancy—perhaps a deb or a celeb (this is where Serena, Blair, et al., will register when they get married). The store specializes in formal dinnerware, china, and Old World home furnishings; it's headquartered in Manhattan, but out-of-towners should plan to visit if they're making a trip to New York anyway (maybe to try on gowns at nearby Mark Ingram?).
Cool feature: In-store consultants will block out hours to guide you through the registry process and the selection of tabletop designs, which rotate frequently so the inventory is always fresh.
Perks: After your wedding you'll receive a gift certificate, credited to your account, for 10 percent of the total value of gifts that were purchased from your registry.
Check out: Waterford Crystal Lismore Essence stemware, $79.50–$160; Meissen Ming Dragon mug, $360; Royal Crown Derby Panel red 5-piece dinner set, $490

Register here if… you're really, really passionate about cooking and entertaining.
Perks: Starting in February, 10 percent off any item in the store or online for up to six months after the wedding
Check out: Sur La Table Cocotte enameled cast iron Dutch oven, $99.95$139.95; Sur la Table Platinum Professional bakeware, 7-piece set, $149.95; Jura Impressa Z7 One Touch coffee, espresso, and cappuccino machine, $2,999.95

Refreshingly Unconventional Sources
Here you can create your dream wedding registry by adding products from big-name retailers as well as smaller independent stores that may or may not have official registries—which means that that Etsy seller whose stuff you love so much is fair game. To select products from any online store, click on the site's Add to MyRegistry button, which will then magically appear in your browser's toolbar for easy access.
Check out: iPad 16GB (pictured, first page), $499, apple.com; Wegner style Wishbone chair (pictured, first page), $269, inmod.com
If having state-of-the-art electronics and home appliances is at the top of your list, sign up for Best Buy Wish Lists. The store also offers a Pitch In card that lets guests contribute to the joint purchase of big-ticket items—like that 50-inch plasma TV you've had your eye on.
This online gift registry collects guests' contributions for a down payment on a house, home improvements, or furniture; one of the first steps is to design your virtual dream house on the site. Sign-up is free, but there's a 5.9 percent transaction fee on each gift (your guests can opt to pay this themselves). Funds are collected via PayPal.
These charity-tie-in shopping meccas help make donating to your favorite cause an integral part of your wedding day. Register with a partner retailer like Target or Macy's, and up to 10 percent of the proceeds from guests' gift purchases will be donated to your chosen charity. Or ask for tax-deductible donations in lieu of material gifts.
Choose from one of five registry themes (or have one designed for you); personalize a message to your guests; then add links to the websites featuring the products you want. Not that you're limited to material things—you can also list "experiential" requests like a Seine River cruise or trapeze lessons. One caveat: You have to pay to register here (subscriptions start at $65).
Outdoor enthusiasts know and love this store—and when they learn it offers a registry? Forget about it! Guests will now be able to give you all the sporting gear, clothing, and camping/hiking equipment you desire.
Check Out: REI Base Camp 6 tent (pictured, first page), $399
If having a blast on your honeymoon (or having the funds to splurge on some indulgences during your stay) is more important to you than china and flatware, this registry is for you: It's set up so that friends and family members can make monetary gifts to cover your travel expenses, meals, and activities (e.g., snorkeling lessons or scenic side trips).
Register online or in-store for wine, beer, gourmet food, spirits, glassware, and wine accessories from this LA-based shop. Its specialists are available to make suggestions and help you pick wine and liquor in a variety of price ranges.
Thanks to Brides.com for this registry article.
Your Perfect Day… because you deserve it!